We found 9 matching businesses for you.
Brown Cow Creamery at Savage Acres Farm
Laurie Savage, Owner
Discover our products coming to you right from farm to plate!
Brown Cow Creamery at Savage Acres Farm is an on-farm direct market offering beef, pork, milled flours and cheese. Colby and cheddar cheese varieties are made from the milk of our own cows pastured in the Montgomery County Agricultural Reserve. We are one of three active dairies in the county and the only maker of cow cheese. Our flours are milled right on the farm from wheat and corn. We are a multi-generational family farm involved in programs such as the Million Acre Challenge focusing on soil health and the county's farm to food bank program.
Food and Beverage
Laurie Savage
Alumni Association Lifetime Member
---
Cakes by Jasmine
Jasmine Kelly, Owner
Cakes, Cupcakes, Desserts Oh My!
We offer uniquely designed cakes, cupcakes, and other specialty desserts for all of your special occasions.
Food and Beverage
Bakery
Caterer
Dessert
Alumni Association Lifetime Member
Minority Business Enterprise
---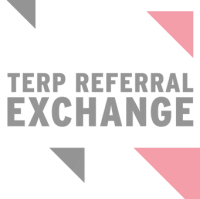 The Market at Deere Valley
Samantha Baker, Executive Decision Maker
From our farm to your family
Our on farm market seeks to provide its customers with fresh farm raised beef, pork, lamb and chicken. We additionally source other products from small local producers to provide a unique farm shopping experience in the Montgomery county AG reserve. Rob and his wife Samantha are both MD alum and their sons who are currently UMD students are the fifth generation on the family farm.
Food and Beverage
Samantha Baker
Alumni Association Lifetime Member
---
Bee America Honey
Christopher White, Founder
Sweetness You Can Trust
We sell local honey from our apiary overlooking the Potomac River; flower varietal honeys from iconic regions of the United States; artisanal honeys that capture historic eras in America's past; and natural, honey-based body care products. We also create beautiful custom honey gift baskets for every occasion and offer unique honey tasting events for groups of all sizes.
Food and Beverage
Dessert
E-Commerce
---
Krios Coffee
Matthiew Feder, Founder
Vitamin infused smart coffee to fuel your day!
Coffee has always been an essential part of fueling my day. Back in college, the only way to power through juggling three jobs, a rigorous class load, and extracurriculars was coffee. Each morning, I looked forward to that delicious first sip to wake up. Before I knew it, I was going through multiple cups a day to avoid the dreaded midday crash. Not long after, it started causing jitters and anxiety. After some discussions with Vincent Eberhart and Nick Perilli, I realized I wasn't alone. We thought, if coffee is such an integral part of our lives and everything else is innovating so quickly around us, why can't coffee too?
We got right to work and started collaborating with a team of expert nutritionists to come up with a smarter coffee. Our goal was a delicious brew that gives you clean lasting energy without the jitters, anxiety, and midday crash. After over a year of research and taste tests, we did exactly that….and more. Not only does Kríos Coffee reduce the negative side effects of normal coffee, you also get additional focus, brain power, cognitive functioning, and health benefits WITHOUT sacrificing taste. Including it in your morning routine is a true game changer to get things done.
Each day we are striving to bring more productivity and health into everyone's life one cup at a time. We'd love for you to try some today and feel the benefits yourself! www.krioscoffee.com. We are always looking for mutually beneficial partnerships. Please reach out at matt@krioscoffee.com!
Food and Beverage
Matthiew Feder
---
Omega 3 LLC
Edwin Djampa, Founder
We create granola bars and other food items to help fortify your brain
Omega 3 is the nutritional food brand pioneering the use of brain-boosting, organic ingredients without compromising quality, taste, or sustainability.
Through his studies of nutrition at University of Maryland, Omega 3's Founder, Bright Djampa discovered his passion for improving mental health through incorporating omega-3 fatty acids into our everyday diets.
Food and Beverage
Bakery
E-Commerce
Minority Business Enterprise
---
OMGG! Oh My Gluten Free Goodness! LLC
Jennifer Donald, Owner
Allergy Friendly Desserts loved by everyone
OMGG! Oh My Gluten Free Goodness! LLC specializes in gluten-free/vegan baked goods and cuisine. I personally have Celiac Disease and I know all to well how difficult it is to find safe, allergy friendly places to eat. I am determined to change lives one bite at a time! My Gluten Free/vegan desserts are loved by all.. even those without food allergies! So if you're looking for a place where everyone can walk away satisfied then look no more!
Food and Beverage
Bakery
Caterer
Dessert
Minority Business Enterprise
---
Paste & Rind Cheese Co.
Kara McGrath, Founder
If you can dream it, we will cheese it!
Paste & Rind Cheese Co. is an artisan cheese business, based in Washington, DC. A gathering space for cheese and wine enthusiasts, we specialize in experiences focused on cheese and charcuterie collections, perfectly paired with beverage (read: wine) and accompaniment options. We also offer retail cheese for local delivery or pick up from our kitchen space in NE DC. Whether it be guided tastings, custom gift boxes, beautiful displays, or cheese for straight up snacking, if you can dream it, we will cheese it.
Kara McGrath is the founder, owner, and head cheesemonger of Paste & Rind Cheese Co. After graduating from the University of Maryland, College Park with Government and International Development degrees, Kara spent the next six years in the international development world where she traveled, managed millions of dollars worth of USAID programming, and provided Gender and Social Inclusion support to women across the globe. In 2019, Kara left her development career to work as a cheesemonger, caterer, studio manager and eventually co-owner at Cheesemonster Studio, a cheese catering and retail shop, fulfilling a lifelong dream of owning a cheese shop. In 2021, with Cheesemonster Studio forced into an untimely close, Kara set off on her own and started Paste & Rind Cheese Co., focusing on cheese box collections, catering, and tastings. Despite her ever expanding cheese repertoire, her favorite cheese will always be Harbison from Jasper Hill Farm in Greensboro, Vermont- a cheese so good, it topped her wedding "cake".
Food and Beverage
Caterer
E-Commerce
---
Tenth Ward Distilling Company
Monica Pearce, Owner
Woman owned. Locally crafted. Dedicated to distilling unusual and unconventional spirits.
We are Tenth Ward Distilling Company. We are proud to be woman-owned. Located in what used to be the Tenth Ward of Frederick City and specializing in a variety of spirits and canned cocktails. Everything we make is non-traditional and unconventional, which is why we live fearlessly by our slogan – #wardoffordinary.
Food and Beverage
Distillery
---