We found 4 matching businesses for you.
Collins Publishing, LLC
Insana Collins, Founder
Creators of sustainable content.
We offer: Business Development Writing Assistance for SOPs, Management Plans, SDLC Communications Consulting Writing and Editorial Training Communications Planning
Terps in Tech
Communication
Education
Information
Software
Alumni Association Lifetime Member
Minority Business Enterprise
---
Data Licensing Alliance, Inc.
David Myers, Founder
A STEM data licensing marketplace for Ai/machine learning.
We understand the complexity, rigor and most importantly the friction that is inherent in the acquisition or dissemination of STEM content. We created the Data Licensing Alliance (DLA) with the goal to democratize information through technology by reducing the friction in licensing data. We are developing and operating a marketplace for both data owners and data buyers needing to license data for artificial intelligence and machine learning (AI/ML) purposes so that they can create the next generation services the world desperately needs.
Terps in Tech
Artificial Intelligence
Education
Robotics
Alumni Association Lifetime Member
---
Empathy Media Lab
Evan Papp, Founder
Discovering solutions and motivating collective action.
Based within the Washington, D.C. beltway, Empathy Media Lab is a production house that publishes content on labor, political economy, art, and culture, and is also an event space, music and podcast studio for artists and activists to hone their craft, showcase their artistry, and produce transformative stories for a global audience.
EMLab Strategies is part of Empathy Media Lab and offers a suite of communication, education, and media services for government, nonprofits, businesses, artists, politicians, and community causes.
Terps in Tech
Communication
Education
Energy
Environment
Information
Production
Alumni Association Lifetime Member
---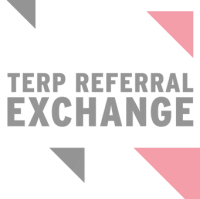 FinLit Tech
W. Gardner, Founder
Building a Bridge Between Financial Literacy & Financial Technology
Our mission is simple. We work to Build a Bridge Between Financial Literacy and Financial Technology. Financial Literacy (FinLit) educational resources are needed today more than ever before. Financial Technology (FinTech) continues to impact our lives and bring new tools to improve our society. By combining FinLit + FinTech we have "FinLit Tech". We create the tools and resources to bring financial knowledge to more people across the world.
Terps in Tech
Education
FinTech
Software
W. Gardner
Alumni Association Member
Minority Business Enterprise
---